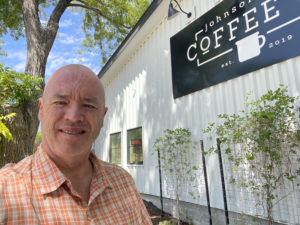 I find myself in a lot of coffee shops. Today, I find myself in one just a little west of Austin. Johnson City Coffee. Sometimes when I feel the words stirring, and the need to write, a change of scenery helps. Katelyn and I had stopped here for the first time on the way back from one of our day-cations to Fredricksburg a few months back. When she and I feel the need to get away for a day, we love to drive out from Austin, get coffee at a cute little spot in Dripping Springs, grab some kolaches around the corner from Mazama, then make our way to Fredricksburg to walk the streets, peek at the shops, maybe pick up a little something, and then eat at Vaudeville's.
We've made the trek out from Austin on 290 so many times, turning up 281, then left again through Johnson City and out west. Unlike all those other trips, today I made the short drive myself. Alone. With our son, Taylor's, wedding a week from today, I felt all of the emotions of the past few weeks and months coming together this morning. In words. When that happens, I know what I must do. Find the right spot. And write. Let my fingers take what is in my heart and out through the keyboard, so I can express it. I'm always hopeful that my words will touch another heart, however, until I write, I can't process things fully. They're fuzzy. Scattered. Writing from my heart lets me understand fully what I'm feeling.
Today, I'm feeling a lot of things. What I'm feeling the most is the power of love. In my love for Maureen, God allowed she and I to bring three of His children into the world. Taylor, Kyla, and Katelyn aren't just our children; they are the manifestation of Maureen and my love. They are the manifestation of God's love. Their mom may be on the other side of heaven now, but her love is not. Her love is embodied in each of them. I see her in them. I feel her love in them. And a week from today, our eldest, Taylor, will stand at an altar in Montgomery, Alabama and profess his love like I once did for Maureen at an altar in Evanston. At St. Matthew's. In the presence of God, their families, and their friends, he and his bride to be, Elizabeth, will say their vows, and as captured so beautifully by Genesis 2:24 in the King James Version, "Therefore shall a man leave his father and his mother, and shall cleave unto his wife: and they shall be one flesh."
Taylor will forever be the fruit of Maureen and my love, but next Saturday, July 16, his road will diverge. He will be at his own trailhead, with his bride, Elizabeth, and together, they will take their road. "Somewhere ages and ages hence: Two roads diverged in a wood, and I— I took the one less traveled by, And that has made all the difference," wrote Robert Frost. I started down my road with Maureen on July 14, 1990 and as I look back now, I know that has made all the difference for me. I have written 5 posts on the theme of Embracing Uncertainty, and I'm realizing now, as I write the 6th, why I needed to come out west on this particular road to capture my feelings today. I'm realizing that I didn't come to find certainty. I came to live into the uncertainty. For, I am realizing that there is never a day that we are certain of what will come next. We simply have to live into the power of love, each and every day, and then, our road will take us right where we need to go next.
As I wrote over three years ago in San Francisco, "The magic that unfolded next was a clear sign that what we are looking for in life is not always what we find. When we embrace uncertainty, we may find our way by getting lost first." I continued in Embracing Uncertainty | Plugs, Coffee, and Sextants, "My destination that morning as I left my hotel was for a day of rest, relaxation, and reflection. It wasn't until I stopped following my map, though, that what I was looking for found me. And, it wasn't a plug in the wall, but instead the plug that has the power to connect us all to the universe, those moments of deja vu, of realization, those moments where a new future opens itself to you."
I'm feeling that deja vu again as I sit here in Johnson City on the road to the west. I'm reflecting on the first trip Maureen and I made out west from Austin after moving here from Chicago in 1994. We reached the country a lot sooner back then. As Austin has exploded, not only is the city more populated, but that population is pushing west, too. But if we let it, the road we are on will always take us to the right destination. I've traveled this road with Taylor to Scouting summer camps in west Texas. We traveled back together from some, and as he got older, I traveled back by myself after dropping him in the Davis Mountains to work as a counselor at Buffalo Trail Scout Ranch. Maureen and I
traveled out this road with my parents, her parents, our respective sisters, and brothers-in-law, exploring and sharing our new world in the early days, and then as kids showed up on the scene, experiencing the same place in new ways. We've stopped for lunch at the Feed Mill, before it was the Science Mill. We've traveled this road to pitch horseshoes and toss washers with dear friends at Dove Ranch. We've traveled out this road many, many times as we would drive out to Lake Tahoe for my century rides with Team in Training. Same road. Different times. Different destinations. Same love. And a love that grew as our family grew.
In my first post on the theme of Embracing Uncertainty, What is our Wild?, I reflected on Kyla and my experience with the movie, Wild, as well as the chance we had to meet Cheryl Strayed at a book signing at Bookpeople in Austin. I wrote that post just over a year after Maureen's passing. There is a great quote about dads from Cheryl's book, "Wild: From Lost to Found on the Pacific Crest Trail," from which the movie was adapted. "The father's job is to teach his children how to be warriors, to give them the confidence to get on the horse to ride into battle when it's necessary to do so. If you don't get that from your father, you have to teach yourself." I'm not sure if I've taught them to be warriors, or if they have learned on their own, but I do know this. I love them. With my whole heart and my whole soul. Just like I loved, and love, their mom. My Maureen.
And that love is what brought me out west again to Johnson City today. On a road that I've traveled so many different times for so many different reasons. And on Wednesday, Katelyn and I will instead travel east, not west. Traveling on another well known road for new reasons. Traveling on a road that has taken us to the beach in Ft. Morgan, Alabama for over 20 years with Maureen's family. Traveling on a road that brought me to my family in Charlotte, NC, taken me to Maureen's mom and dad on Callawassie Island in South Carolina (where they moved the same year Maureen and I moved to Austin). The same road that we've occasionally taken to Charlottesville to the University of Virginia. This year we will continue past the "beach exit," and instead travel up 65 to Montgomery, Alabama. To a wedding. For a boy and his girl that met in Charlottesville. And found love. And their own road. And that will make all the difference.