Where in New Jersey? Ridgewood. That is in Bergen County he said… but I already knew. We had a few minutes before our conference call was to begin yesterday morning. I always like to ask where people are, physically, because even though we are voices on a phone, we are still somewhere. Well, that is true for those of us on this side of heaven. For those of us on the other side of heaven, like my beloved Maureen, she shows up in the most interesting of places. She also shows up at the important moments, those moments where her presence is a reminder, a reminder of not only her love but a reminder to me that I am following my own path of love. As an entrepreneur, husband and father, those reminders are important.
My last post in the Powdered Donut Manifesto series was June 30, 2017 on the girls and my way to New York, actually. We were headed to New York City for the 4th of July weekend. We were not only going to celebrate, enjoy, and visit special places, but we were also headed to the Statue of Liberty for a special moment of remembrance. As I have written previously, the Statue of Liberty is a special place. It is where I proposed to Maureen during the 4th of July weekend in 1989. I remember the moment vividly and described it to my girls in detail as we walked around Liberty Island together last year. One can no longer walk directly up to the pedestal where Maureen and I had sat on the grass, where I proposed, but I strolled to a nearby clump of trees, as the girls, watched to sprinkle Maureen's ashes at this place of love. The powdered donut and ashes hold a special place in our hearts, which is why this story is being shared in the powdered donut manifesto series. Just like we sprinkle ashes, the powdered donut symbolizes our sprinkling of love. [Story told at Team Powdered Donut.]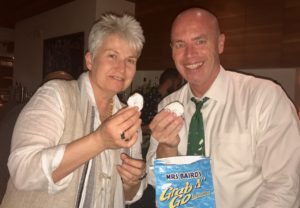 Over the course of my writing, I have adopted two terms to refer to what happened during yesterday morning's conference call, #wingprints and #thinspaces. #WingPrints is a term that I describe in detail in the post from June 30th last year. It is a term that our beloved Karen Haycox, who heads NYC Habitat for Humanity, uses to explain our guardian angels touching moments in our lives back here on earth. #ThinSpaces is a term that Nicholas Dertien shared with me at another of my favorite coffee shops in Austin, Stouthaus Coffee. It helped frame my post,
#TheLoveofMyLIfe | Can You Imagine?
 As I joked in that post, I spend a lot of time in coffee shops. Actually, I'm at Greater Goods Coffee Roasters now, writing, not far from Maureen, the kids, and my favorite French patisserie, Baguette et Chocolat. It was where I was yesterday during the conference call.
For the story from the conference call to make sense, I have to share a little about the work I do, driven by the same passion as my philanthropic work with the Leukemia and Lymphoma Society and Susan G. Komen. This year actually marks my 10th anniversary as a volunteer with LLS, and this video produced when I received the President's Award describes the essence of my passion for this organization fighting blood cancers. My work on CLOUD – Consortium for Local Ownership and Use of Data – is driven by this same passion, and the belief that we can #changethefight with cancer by thinking about how we connect people and data differently, so that we can not only find new cures more quickly as researchers push the cutting edge of science but so that those same cures can reach patients more quickly, more accurately. And, patients need to find each other. I am privileged to participate in many social media venues around breast cancer from #bcsm on Twitter to Beyond the Pink Moon on Facebook. You might think that having lost someone to this horrible disease would make it hard to interact, and yes, compassion fatigue can and does raise its head, but it is a reminder. A reminder not just of the importance of our work to find a cure but the importance of love, and the love that the "lovelies," as they are known share at Beyond the Pink Moon is a beautiful thing.
I shared the connection of my love for Maureen to my work on CLOUD at Susan G. Komen's 2017 Big Data 4 Breast Cancer event in Menlo Park. You will discover that I like to speak, as much as I like to write. In Maureen's waning days, she pointed out to me that I should keep doing these things. That in life we are granted a few things that we do well… I joked with her that after 25 years I had hoped she could come up with more than two! We chuckled, but she knew, and knows me better than anyone, so I listened to her then, and I listen to her now. Which brings me back to my conference call and 217.
Through my work on CLOUD, I am privileged to interact with a lot of leaders in the fight with cancer from onco-philanthropies to oncologists to cancer centers to pharmaceutical companies that are at the cutting edge of science. My call yesterday morning, outside of Greater Goods Coffee Roasters, was with folks from one of these groups about my work and our potential collaboration around it. I am Christian, which is why I know that Maureen's #wingprints come from heaven, however, I also pay attention to numbers, especially 21, since Maureen passed early on the morning of October 21, 2014. It, and 7, a divine number tend to show up a lot with Maureen. I actually wrote about the "lucky 7s" in When Love Is Your Royal Straighton our way to Las Vegas for one of my 7 bike rides around Lake Tahoe with Team in Training for the Leukemia and Lymphoma Society.
Not only do 21 and 7 show up in 217, but they showed up in my call yesterday morning. Right after one of the call participants said, Ridgewood in Bergen County, I then asked one more question. Because, you see Maureen grew up in Ridgewood. I knew right where it was. Maureen and I not only celebrated a few Christmases there, but we had traveled from there to the Statue of Liberty together in 1989 on 4th of July weekend. We celebrated our engagement around her family's pool in the backyard the night I had proposed. I then asked simply, "where in Ridgewood?" He answered… Fairmount Road… my heart quickened. That pool where we celebrated is behind a house on Fairmount Road. What street address? His answer was only a block or so from Maureen's home. At 217. 217 Fairmount Road. It is all connected. Love will always show us the way home did. And, yesterday, Maureen reminded me again of her love and of my love for her and the work I do in her memory.